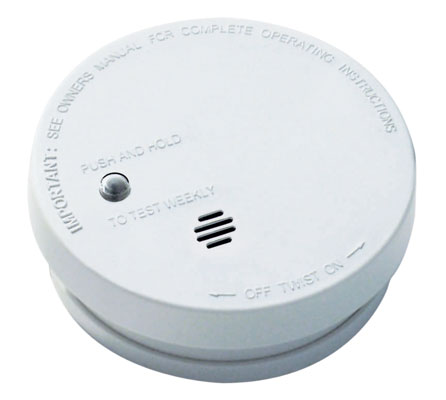 Smoke Detector Basics
The biggest threat to loss of life in a fire is at home at night, when everyone is asleep.
Smoke usually will not awaken you but will cause you to sleep harder and then suffocate you. Smoke is the real killer in house fires; not flames. In 1994, 31 people died in fires in Alaska. Of those, 25 deaths were in homes!
The Building Code requires that smoke detectors be located in places where people sleep and in the area outside the bedroom doors. Detectors must be loud enough to awaken sleeping people anywhere in the dwelling. So in the event that there is a considerable distance or an obstacle, such as several levels, between these required smoke detectors, the detectors shall be interconnected.

IN NEW AND EXISTING HOUSES AND APARTMENTS
Smoke detectors are now required inside the individual bedrooms. In addition, smoke detectors must be located in a hall or other area adjacent to and outside of the bedroom doors. There must be a smoke detector on each level, including basements. There should also be a smoke detector in any other habitable room over 70 square feet and not used for cooking, eating or living room uses.
In my inspections I look for at least one smoke detector per level and specifically for detectors in each bedroom, in the hall outside the bedroom, and in any room not specifically identified above, that could be used for sleeping, like the den. If it is big enough for a couch to sleep on, and not dedicated to something else, I call it out as a "Safety Issue."
IN EFFICIENCY APARTMENTS AND HOTELS
A smoke detector is required to be provided in the sleeping room, either on the wall or the ceiling.
IN AREAS OF NEW CONSTRUCTION
The smoke detectors are required to be wired in to the buildings electrical system (AC) with battery back-up (DC).
WHEN REMODELING EXISTING BUILDINGS
Generally AC smoke detectors with battery back-up are required. However, if either of the following are true, battery operated detectors are acceptable in that area:
1. if no construction occurs in the area
2. if the value of the remodeling is less than $1,000 and no new bedrooms are created.
IN EXISTING BUILDINGS
Where no construction activity occurs, smoke detectors are still required but they may be battery operated only.